JOHN WATSON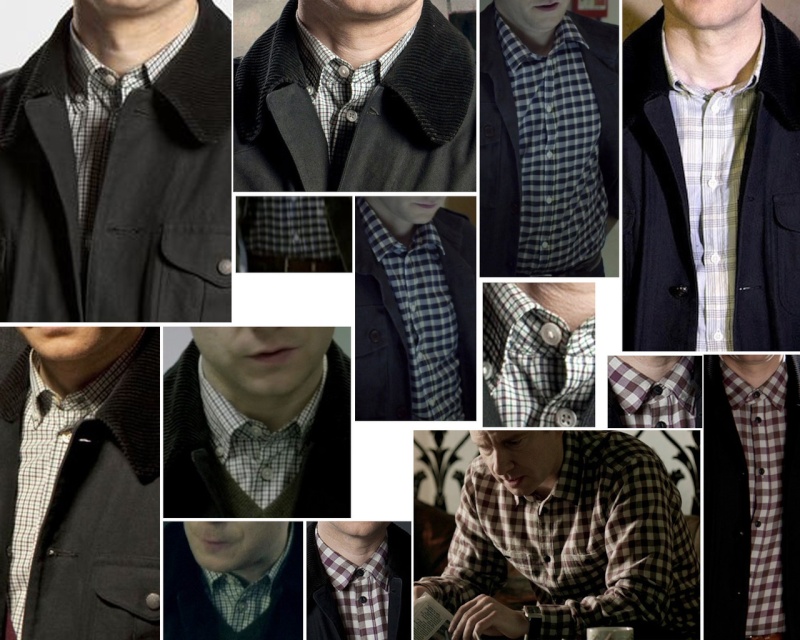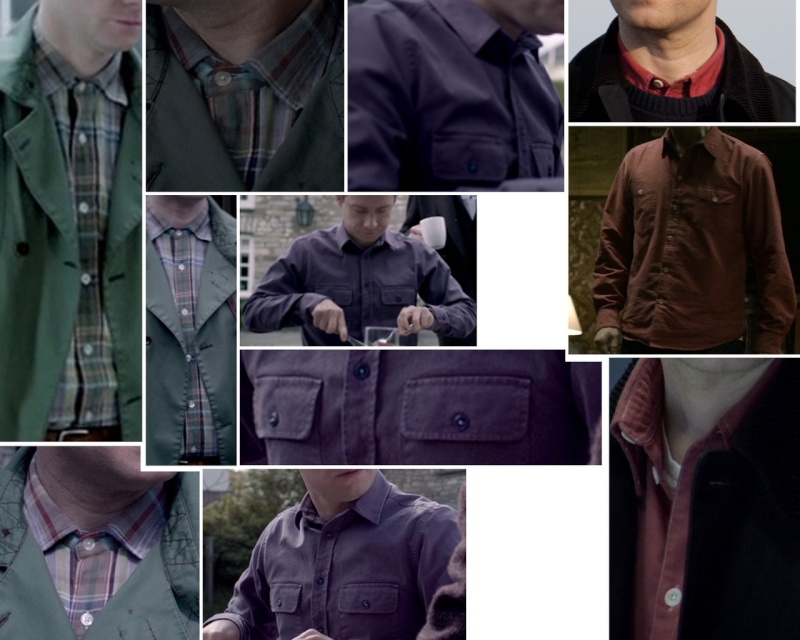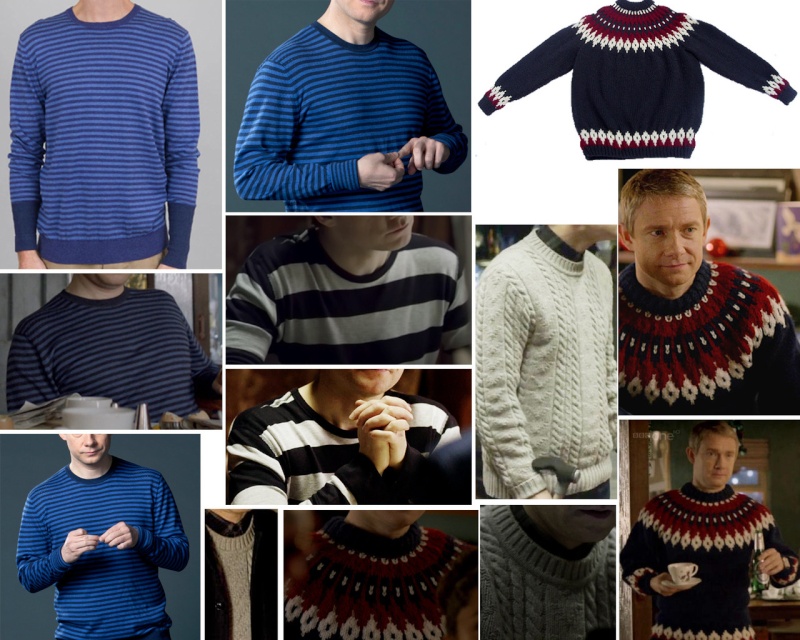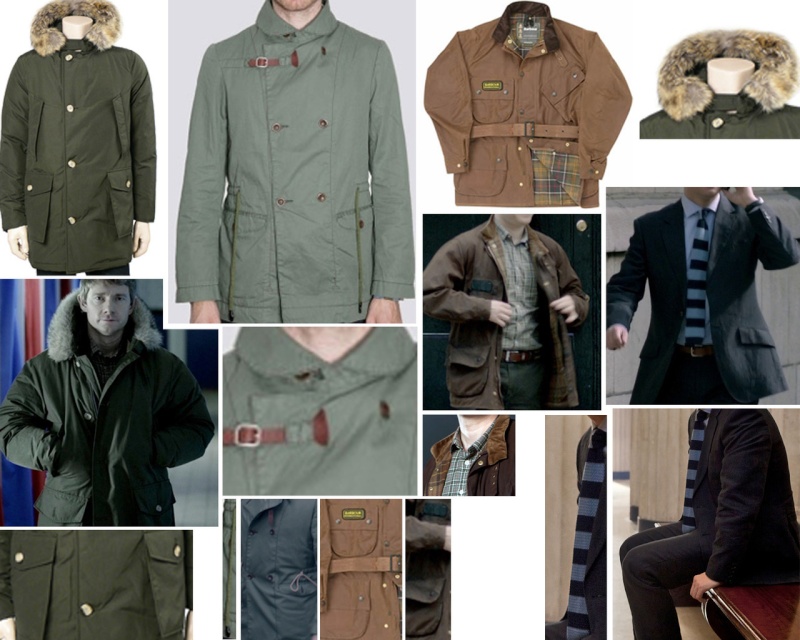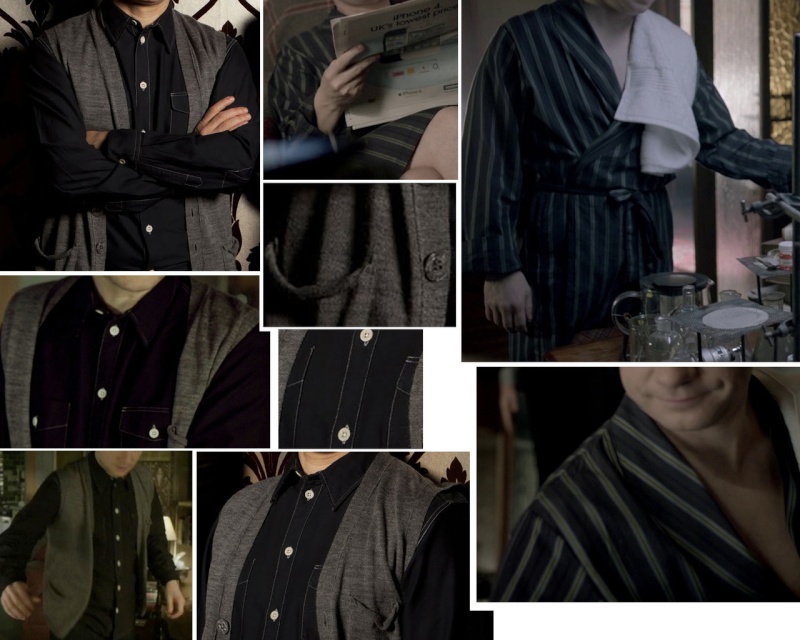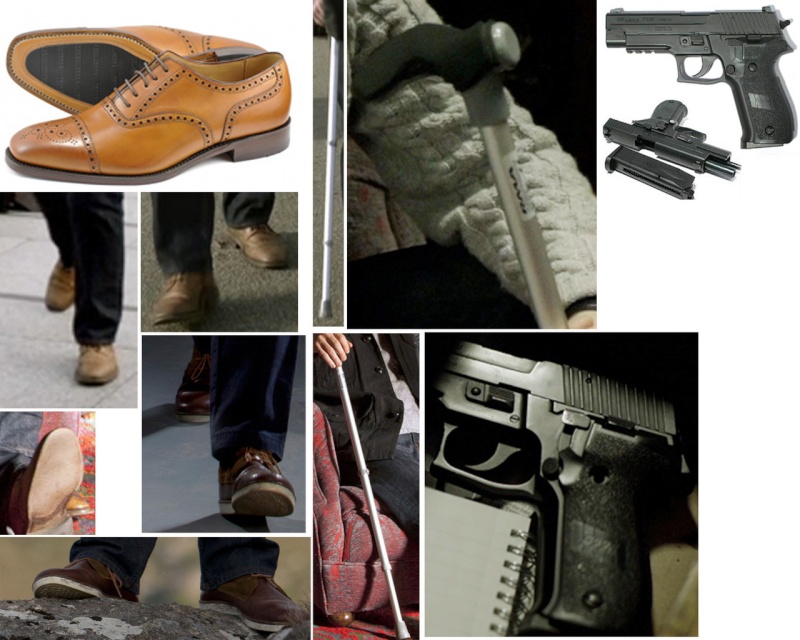 JOHN COSPLAY REFS AND HELP

What have I learned from making John's refs? He has too many shirts. Like.. he has a problem. He has more clothes than Sherlock. And a thing for checked fabric. He really likes those…ENJOY

COAT/JACKET: Like Sherlock's, this is sort of an important part of the cosplay, but don't worry if you can't get one. As you will learn from these refs…he has a lot of other clothes. Now the coat-jacket is a Haversack brand that is no longer available. However, you never know. Ebay is your friend…usually. Anyway, it has four pockets at the front with silver buttons. It is one up with several little black buttons . The collar is black corduroy or similar. The right shoulder (by the wearer's perspective) has a leather patch. Both elbows do too. It's quite easy to 'edit' an existing jacket by changing buttons, adding a new collar over the old one and adding patches. I recommend vinyl for those.

However you can buy cosplay made ones here: http://cosplaysky.com/sherlock-holmes-dr-john-watson-black-jacket-costume.html and here: http://www.hellocosplay.com/sherlock-holmes-costume-dr-watson-john-watson-jacket-black-p-4564.html . You might find more elsewhere, or even find someone willing to make it for you.

Also look at this: http://www.bennevisclothing.com/Donkey-Jacket-PVC-Shoulder. 

SHIRTS: HOLY SHITAKI MUSHROOMS. He has a lot of shirts, so you have a lot of options! He favour's check and stripes but he also has that nice Red shirt of bamfness, two black shirts (one with white stitching) and a purple shirt. So take your pick! Usually worn under a jumper or a cardigan. 

CARDIGANS: I think he has a least two. Green and burgandy.
these are usually easy to find, but take a look at charity shops as well as regular ones. You might find them cheaper! Also he wears this grey sleeveless cardigan thing in the Blind Banker..

JUMPERS: He has two long sleeved striped tops, one blue and dark blue, the other black and white. Idk where you'd find them but the blue and blue one is Folk and it's found here: http://www.folkclothing.com/ somewhere. (keep an eye on ebay) He also owns a black jumper, the famous Cable Knit one and the Christmas jumper. Your jumpers don't have to be accurate but the cable knit was from Albam on Carnaby? St. It's no longer available. 

The christmas jumper is a little harder. But it was hand knitted and pattern 7806A from 'Reynolds New Icelandic patterns' (vol. 78). 38-40" chest. Navy, red, and cream Lopi yarn. (thanks WearSherlock). If you can't knit I hope you can find someone to knit it for you!

PANTS: Usually jeans. Unless he's in a suit. Then not jeans. No idk what brand of suit. But the jeans are Uniqlo which can be found here: http://www.uniqlo.com/uk/store/clothing/uq/uj/men/?OVMTC=Exact&site=&creative=9263694302&OVKEY=UNIQLO%20jeans&gclid=CPL-1rHqtqsCFSNItAodoWeRfQ Worn with a leather belt.

OTHER JACKETS: Well theres the parka, a Woolrich Army Hooded Parka, found here: http://www.lineafashion.com/store/mens-woolrich-coats/woolrich-new-mens-hooded-down-arctic-parka-army-green-11327.html (its no longer available but ebay is your friend.) It has a fur hood, two pockety pockets and two side pockets. Any green fur hooded parka should be fine though. If it's not fur hooded…make it fur hooded. 

Then theres the green jacket from Hounds. Another thing by Folk. It's not available but you can buy cosplay versions here: http://www.aymcosplay.com/sherlock-holmes-drwatson-john-watson-jacket-bbc-tv-cosplay-costume-coat-g801-p-70.html , here : http://au.hellocosplay.com/bbc-tv-sherlock-dr-watson-john-watson-jacket-green-costume-coat-p-4761.html and here: http://www.moviecos.com/bbc-tv-sherlock-dr-watson-john-watson-costume-jacket-p-355.html .

Theres also a Wax Brown Jacket. It's by J Barbour and Son's Ltd. I'ts not available. It's brown with four pockets, one on an angle. The logo is covered in the show, the inside is checked and theres a belt. In the show though, the collar seems lighter. 

OTHER: During the Court thingy, he wears a funky blue striped tie. Also a dressing gown. But not during the court thing. It's short and sexy with stripes. Top it off with shaved legs, wet hair and a towel. 

His shoes are Loake (Ashley Brouge?). But any sort of brown oxfords would do fine. 

His walking stick can be brought here: http://www.mobilitysmart.cc/walking-aids-c-43/walking-sticks-canes/ergoniomic.html but any aluminium one would be fine. You can get them anywhere.

Fo reference, his gun isn't a Browning L9A1. Ok maybe in the show it is. But the model of gun shown in the show is actually a Sig Sauer. Model number P226R [L106A1].  But don't go out and buy a gun for cosplay..you can get a toy one and make it look like this. Maybe. But make sure it still has the orange nose. Or you could get in trouble.

(Hope that was ok! If you have any questions please let me know!)

If you would like refs for other characters let me know!
 
Last edited by Song (February 8, 2014 12:56 pm)